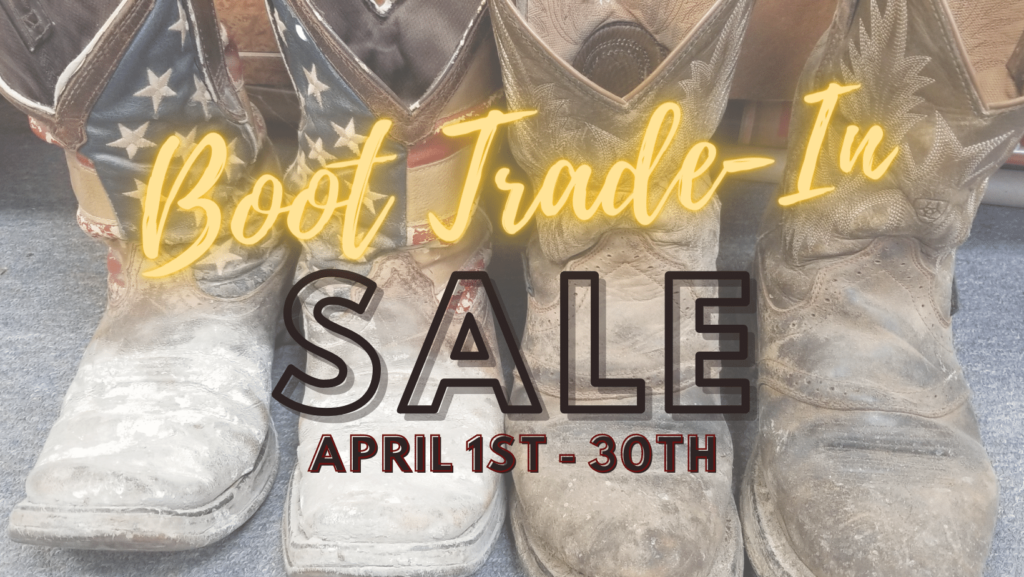 Receive up to $30 off new boots with a trade-in
April once again brings our Annual Boot Trade-In Sale. This year you can receive up to $30 off a brand-new pair of boots when you trade in any pair of boots, in any condition.
Yes, you read that correctly. Any boot, any condition.
They can be western boots, work boots, hiking boots, muck boots.
Boots with holes in them.
Boots held together by duct tape.
Boots that no longer fit.
These all qualify to save you up to $30 off a new pair.
Don't have boots to trade? You can participate as well! When you purchase a pair of regular-priced boots in the month of April you will receive 10% off without a trade-in.
Use code: BootSale when shopping online to apply the 10% discount on your web order.
Don't miss out on this once-a-year opportunity to turn those old boots into money toward a new pair.
*Trade in any condition boot to receive $30 off any pair of boots priced at $125 or more. Receive $15 off any pair bot boots priced under $125. Trade-in promotion is limited to in-store purchases only. Online purchases without a trade-in qualify for 10% off all regular-priced boots. Promotion excludes all casual footwear (Twisted X Mocs, Ariat Hilos, Minnetonka Moccasins, etc.)
Shop the Latest Styles for Men, Women, and Children